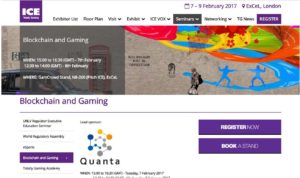 Members of LOYRA ABOGADOS will be present the upcoming ICE Totally Gaming events to be held February 6 – 9, at the ExCeL Centre in London. They will also be available if you wish to share any thoughts or queries with them!
Patricia Lalanda, Associate Gambling, IP, and NNTT,  will be speaker in "Blockchain and Gaming Seminar"
WHEN: 15:00 to 16:30 (GMT) – Tuesday, 7 February 2017
12:30 to 14:00 (GMT) – Wednesday, 8 February 2017
WHERE: GamCrowd Stand, N8-260 (Pitch ICE) ExCeL London
Contact: Patricia.lalanda@loyra.com
<<Yes, anything that is associated with "new" is scary (specially for most regulators) but once we have overcome the vertigo the word "Bitcoin" used to bring about, it is time to go into the technology that lies underneath, the BLOCKCHAIN. I don't just believe but I know that this technology and its inherent characteristics, such as immutability (permanence), security, transparency and disintermediation, that it is of extreme relevance for both land based and online gaming stakeholders to get up to speed.

This seminar does not pretend to give all the answers during the short sessions but it's a fantastic start! Remember, not too long ago, online gaming itself was new and scary.>>
Cristina Romero, Partner International and Corporate Finance Areas, will be speaker in : "Are Integrated Resorts Coming to Europe?"
WHEN:9:45 to 11:00 (GMT)- Monday, 6 February
WHERE: Hippodrome London.
Contact: cristina.romero@loyra.com
Fernando Martín, Partner, specialised in civil, corporate, litigation, administrative, and gaming law, will be attending the fair.
Contact: fmartin@loyra.com
Ignacio Blanco, Lawyer, specilised in corporate and M&A, will be attending the fair.
Contact: ignacio.blanco@loyra.com