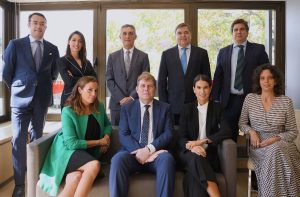 PRESS RELEASE
EJASO ETL Global continues to expand and becomes a shareholder in LOYRA
The organization takes one more step in its growth strategy and becomes a shareholder in LOYRA, incorporating a highly specialized firm with expertise in regulated industries such as gaming and gambling, education, and life sciences. Further, LOYRA has a track record in advising mid-market companies with a 360º approach in other industries like audiovisual (animation and VFX), utilities, industrial, new technologies, leisure, and real estate. Since its inception in 1982, LOYRA has also taken a prominent role in advising family businesses and operates with a strong network in LATAM and Eastern Europe.
EJASO ETL Global continues with its growth plans with the aim of expanding its reach to companies in key economic sectors of our country. The incorporation of LOYRA is a strong entry into regulated industries and a transaction that will result in significant synergies with its own departments and specialized areas.
On the other hand, LOYRA expands its services portfolio and acquires a wider full-service dimension, enhancing its global presence, thanks to the footprint of EJASO ETL Global in Spain and the group of firms that make up ETL Global, both at National and International level.
The entry of EJASO ETL Global into the share capital of LOYRA ultimately aims to pursue the goal of both firms, which is to continue offering tailored and high value-added solutions to their clients, with a full-service focus and global reach.
According to Manuel González-Haba, partner at EJASO ETL GLOBAL, "LOYRA means a great reinforcement of our efforts to expand our services to regulated industries alongside a leading firm that is internationally renowned".
Ramón Romero and Carlos Lalanda, founders of LOYRA stated that: "To LOYRA, the entry of EJASO ETL Global is the result of an extensively meditated bet on excellence in the provision of legal services in all areas of business law. With this, we exponentially expand our capacity and take a qualitative leap which will be key for the benefit of our clients".
Cristina Romero de Alba, partner at LOYRA, highlights that this agreement: "Means pursuing our path in conjunction with teams that complement our firm and support our services in those areas that our clients may demand, with an international presence that consolidates our global network even further. They are professionals with whom we share both vision and values".
On LOYRA Abogados y Asesores
LOYRA, Abogados y Asesores is a professional services firm founded in Madrid in 1982. It is specialized in legal advice to companies and businesses acting in regulated industries, holding a leading presence in gaming and gambling, for over 35 years. During the last few years and following a strategy based on industry diversification and incorporation of new areas to the firm, it has widened the scope of its services to other industries, in particular, audiovisual (animation and VFX), pharma and life sciences, utilities and education and distribution, advising its clients regularly on M&A and restructuring, financing, tax, litigation, intellectual property, data protection and new technologies.
On EJASO ETL GLOBAL
Founded in 1984, EJASO ETL GLOBAL is a full-services law firm specialized in business and corporate law. Headquartered in Madrid, the firm also has offices in Lisbon and the main Spanish cities, as well as a wide network of partner firms spread across Spain, Europe and LATAM.
In 2016, EJASO joins ETL GLOBAL, a group of German origin specialized in provision of legal, tax, audit and consulting services, which, leveraging on its over 50 years' experience, has been integrating firms and key professionals in its network in Spain with the target of becoming a reference to small and medium enterprises in order to achieve a position similar to its already existing leadership in Germany and Central Europe.
Madrid, September 29, 2020.